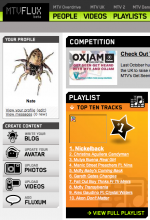 MTV UK launched their new site August 1st, powered by Drupal. I played a significant role in the development of the site: theming, custom modules, client support, and of course enhancing the webform.module, which started the whole affair. Working with such a large, global company I expected that I would be dealing with humorless suits. Much to my surprise, our company contacts are super-cool. And since their Brits they say cool things like "Cheers" and "Righto". Awesome.
MTV is using the new powers granted by Drupal to determine programming for their new television channel "MTV Flux", where users contribute their own content. Based on website feedback popular content is then played on Flux.
Check out the press release from Lullabot for more information.